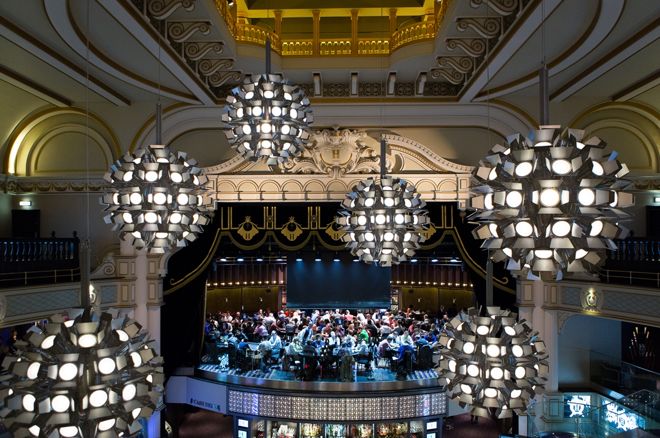 PokerStars announced March 3 a new tournament series at the PokerStars LIVE events, the MEGASTACK tournament.
"While we highlighted some of the big events coming up this month, we're also glad to concentrate on the other end of the poker spectrum, with a series of smaller grassroots tournaments aimed at recreational players looking not only for a great live poker experience, but that first step up in their poker career towards PokerStars Championships and Festivals," stated the PokerStars blog.
This series, aimed at recreational players, gives players a huge starting stack, a smaller buy-in and a flexible schedule.
The series will kick off at the PokerStars LIVE in London at the Hippodrome Casino April 7 to April 9.
With a £170 buy-in, players will start with 50,000 chips and three opening flights. One re-entry is available for each flight.
While London is the start of this series, there are multiple dates of action PokerStars has scheduled in Europe. Until those dates and locations are released, here's the dates for the MEGASTACK tournaments at Hippodrome Casino: May 5-7, June 30 – July 2, Sept. 22-24 and Oct. 20-22.
Players can qualify for these events through PokerStars satellites.
Here's the schedule so far:
| Date | Time | Event | Info | Buy-In | Entry Fee | Starting Stack | Level Time |
| --- | --- | --- | --- | --- | --- | --- | --- |
| April 7 | 12 p.m. | PokerStars MEGASTACK 1A | One Re-entry Per Flight | £150 | £20 | 50,000 | 30 Minutes |
| April 7 | 8 p.m. | PokerStars MEGASTACK 1B | One Re-entry Per Flight | £150 | £20 | 50,000 | 30 Minutes |
| April 8 | 12 p.m. | PokerStars MEGASTACK 1C | One Re-entry Per Flight | £150 | £20 | 50,000 | 30 Minutes |
| April 8 | 2 p.m. | PokerStars MEGASTACK High Roller 2 |   | £300 | £30 | 30,000 | 30 Minutes |
| April 9 | 12 p.m. | PokerStars MEGASTACK – Final Day 1 |   |   |   |   | 40 minutes |
| April 9 | 2 p.m. | NL Hold'em – Cheap & Deep 3 |   | £100 | £10 | 25,000 | 15 Minutes |
| May 5 | 12 p.m. | PokerStars MEGASTACK 1A | One Re-entry Per Flight | £150 | £20 | 50,000 | 30 Minutes |
| May 5 | 8 p.m. | PokerStars MEGASTACK 1B | One Re-entry Per Flight | £150 | £20 | 50,000 | 30 Minutes |
| May 6 | 12 p.m. | PokerStars MEGASTACK 1C | One Re-entry Per Flight | £150 | £20 | 50,000 | 30 Minutes |
| May 6 | 2 p.m. | PokerStars MEGASTACK High Roller 2 |   | £300 | £30 | 30,000 | 30 Minutes |
| May 7 | 12 p.m. | PokerStars MEGASTACK – Final Day 1 |   |   |   |   | 40 minutes |
| May 7 | 2 p.m. | NL Hold'em – Cheap & Deep 3 |   | £100 | £10 | 25,000 | 15 Minutes |
| June 30 | 12 p.m. | PokerStars MEGASTACK 1A | One Re-entry Per Flight | £150 | £20 | 50,000 | 30 Minutes |
| June 30 | 8 p.m. | PokerStars MEGASTACK 1B | One Re-entry Per Flight | £150 | £20 | 50,000 | 30 Minutes |
| July 1 | 12 p.m. | PokerStars MEGASTACK 1C | One Re-entry Per Flight | £150 | £20 | 50,000 | 30 Minutes |
| July 1 | 2 p.m. | PokerStars MEGASTACK High Roller 2 |   | £300 | £30 | 30,000 | 30 Minutes |
| July 2 | 12 p.m. | PokerStars MEGASTACK – Final Day 1 |   |   |   |   | 40 minutes |
| July 2 | 2 p.m. | NL Hold'em – Cheap & Deep 3 |   | £100 | £10 | 25,000 | 15 Minutes |
| Sept. 22 | 12 p.m. | PokerStars MEGASTACK 1A | One Re-entry Per Flight | £150 | £20 | 50,000 | 30 Minutes |
| Sept. 22 | 8 p.m. | PokerStars MEGASTACK 1B | One Re-entry Per Flight | £150 | £20 | 50,000 | 30 Minutes |
| Sept. 23 | 12 p.m. | PokerStars MEGASTACK 1C | One Re-entry Per Flight | £150 | £20 | 50,000 | 30 Minutes |
| Sept. 23 | 2 p.m. | PokerStars MEGASTACK High Roller 2 |   | £300 | £30 | 30,000 | 30 Minutes |
| Sept. 24 | 12 p.m. | PokerStars MEGASTACK – Final Day 1 |   |   |   |   | 40 minutes |
| Sept. 24 | 2 p.m. | NL Hold'em – Cheap & Deep 3 |   | £100 | £10 | 25,000 | 15 Minutes |
| Oct. 20 | 12 p.m. | PokerStars MEGASTACK 1A | One Re-entry Per Flight | £150 | £20 | 50,000 | 30 Minutes |
| Oct. 20 | 8 p.m. | PokerStars MEGASTACK 1B | One Re-entry Per Flight | £150 | £20 | 50,000 | 30 Minutes |
| Oct. 21 | 12 p.m. | PokerStars MEGASTACK 1C | One Re-entry Per Flight | £150 | £20 | 50,000 | 30 Minutes |
| Oct. 21 | 2 p.m. | PokerStars MEGASTACK High Roller 2 |   | £300 | £30 | 30,000 | 30 Minutes |
| Oct. 22 | 12 p.m. | PokerStars MEGASTACK – Final Day 1 |   |   |   |   | 40 minutes |
| Oct. 22 | 2 p.m. | NL Hold'em – Cheap & Deep 3 |   | £100 | £10 | 25,000 | 15 Minutes |

Source link