Apple (NASDAQ:AAPL) will thrive in China and the rest of Asia on the back of the new products cementing its brand attraction and fulfilling unmet demand. Some bearish analysts did not fully take into account that in Asian societies new products are key to drive sales. Customer brand loyalty to Apple is actually very high in Asia. The next few quarters for Apple in Asia should be very strong.
Loyalty to the Brand
A recent survey by the Korea International Trade Association found that customer loyalty to Apple was very high. Gains in sales made this year by local brands such as Oppo and Huawei were mostly at the cost of others, in particular Samsung (OTC:SSNLF).
Apple remained having the largest installed base as per the illustration below: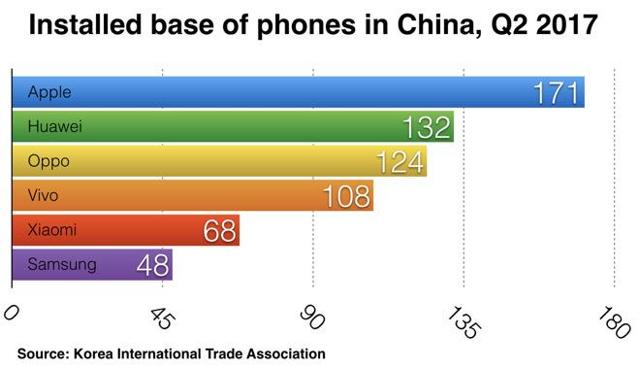 This helps explain why Apple's sales of laptops, iPads and the Apple Watch as well as Services revenues have continued so strongly. The Apple ecosystem once in place is a very strong base for the company in market after market. The only exception to this has been Apple Pay. In the Chinese market, Alibaba's (NYSE:BABA) "Alipay" is a very strong barrier to progress with about 53% of the market. Tencent (OTCPK:TCEHY) follows this with about 40%. It will be difficult for Apple to eat much into the share of these Chinese giants.
The Q3 geographical breakdown of Apple's sales is shown below: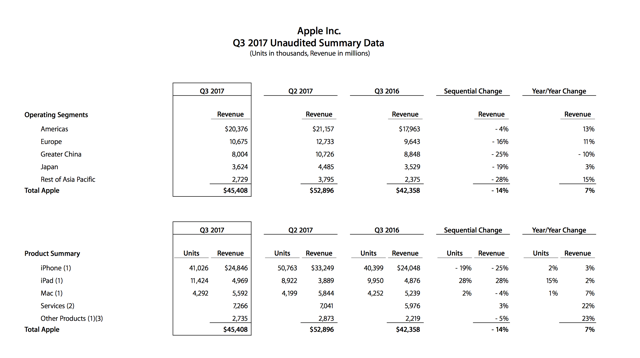 As Tim Cook stated at the time, phone sales were down but were partly offset by the growth of the Services business. In the Q3 earnings call, Cook emphasized the record Mac sales in China and Japan. It was unlikely that consumers would buy a Mac and an iPad but also switch to a lower-cost phone. It was more likely that there is substantial pent-up demand for a new phone, especially an OLED model. In Q3, despite the fall in iPhone sales to China, the country still represented 18% of overall worldwide iPhone sales.
This share is based on the previous iPhone successes. The rest of Asia Pacific and Japan continues to grow despite the previous lack of new phones and the currency headwinds. In affluent markets like Singapore, the iPhone remains the market leader.
Electronics in general seems to encourage brand loyalty. According to the Campaign Asia Pacific Top 1000 brands for 2017, the top three were Samsung, Apple and Sony (NYSE:SNE). Apple's may have the greatest "stickiness" though due to its ecosystem. Samsung of course operates on the Android system over which it does not have control.
In Asia, as I detailed in a previous article, brand growth in general is strong. For instance, 12 of the 20 cities in the world showing the fastest branded products growth are in Asia.
Brand loyalty cannot be taken for granted though. A 2016 survey by BofA Merrill Lynch was very favorable to Apple. The cachet of the Apple brand was illustrated by the graph below: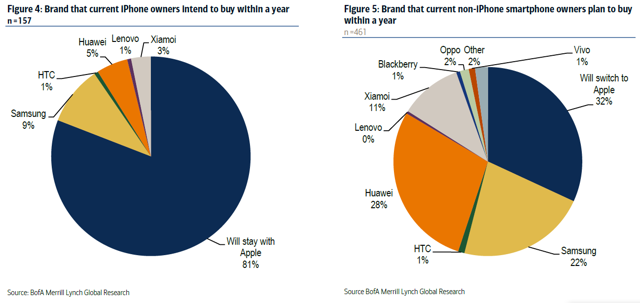 Lack of a new form factor for the iPhone meant that these consumer intentions were not actually met. However, the new products announced by Apple should give a strong boost to its sales again. It should realize the pent-up demand. Chinese consumers have been waiting for new-looking phones and now they have got them.
The exclusivity of the "X" will appeal to many. In fact Apple had little choice but to make the "X' exclusive. There is insufficient availability of OLED screens or 3D depth sensors to make it mass market.
The new iPhone X is an entirely new form factor with an edge-to-edge display. The high cost will not put off affluent consumers. Indeed it may just encourage them. The new iPhone 8 and 8S will be a bit less attractive as they do not look much different from the existing models. However, their internal improvements should still make them strong sellers for upgraders from the iPhone 6 and 7.
There is now a good range of prices. In the US, iPhone retail prices are as follows:
SE = US$349
7 = US$549
7 Plus = US$669
8 = US$699
8 Plus = US$799
X = US$999
Pricing in China will not be exactly the same but the principle remains. The cost-conscious Chinese consumer who wants an Apple brand product and to tap into the ecosystem can go for the SE. Those who want to display their purchasing power and fashion sense will go for the X. Expensive brand product purchases are common in the country.
Apart from the different look of the "X", other features will appeal such as animating emoji, the different operation without the "Home" button, wireless charging and its gaming capabilities. Gaming has been key to Apple's huge market share in Japan and could have similar beneficial effects in China. The new A11 bionic chip will give a better gaming experience as will the new proprietary GPU for accelerating graphics.
One potential negative for the "X" is the fact that such an expensive phone comes with only 64GB of memory. That is a lot compared to most of the local competitive phones from the likes of Xiaomi, Oppo and Vivo. It is the same as Samsung's popular S8 and S8 Plus models. Unlike some competitors it is easy to upgrade the memory, but at a cost, and this for a phone that costs over US$1,000. Apart from the new look, the "X" will appeal to Asian consumers because of its features. Running augmented reality apps, taking 12MP photos, playing HD movies, and running huge 4K video files at 60 frames per second will eat up the memory. Apple could have stolen a march on its competitors here.
Apple does not break down its Apple Watch sales geographically. However, general consensus is that the Apple Watch has been more successful than some claim in China. In a prestige brand market, the company has done well with expensive special editions such as the "Premium Gold Watch" and the
"Apple Watch Hermes."
The new Series 3 should do well in a market where smartwatches are selling strongly. A previous report by Allied Market Research had predicted smartwatch CAGR of 67.6% between 2014 and 2020 to reach US$32.9 billion. This is somewhat influenced by how exactly one defines a "smartwatch," but the report rightly saw a switch from the US being the largest smartwatch market to that of China being the largest.
The Chinese government has encouraged mobile health needs as a priority. Health initiatives from Apple such as "Health Kit" and "Care Kit" working on the Apple Watch tie neatly into this. There is very much a strong position in the Chinese market for Apple against local rivals such as Xiaomi and international ones such as Samsung and Fitbit (NYSE:FIT).
India
The same strength of brand loyalty is likely to pertain in India, but at a slower pace than happened in China. A survey by Kantar Worldpanel in August reinforced this perception. It found that Apple's brand presence, at 15%, was well ahead of the Chinese brands. It was only behind that of Samsung, which has had a strong presence in India for many years. Samsung is likely to remain Apple's main competitor at the upper end of the market throughout Asia.
As has been covered widely elsewhere, Apple is starting to manufacture some of its models locally for the Indian market. This will be done probably through both Wistron (OTC:WICOF) and Foxconn (OTC:FXCOF).
Apple is taking on new retail partners. It has been reported, though not confirmed, that Apple's partner Wistron will make a new version of the iPhone SE at its Bengaluru plant for release next year. Tim Cook has been negotiating hard with Indian leaders to get a better retail, manufacturing and taxation deal for the company in India.
Cook's visits to the country and focus on India are no doubt motivated by the fact that India is the second largest mobile phone market in the world, behind China. Local manufacture, a retail network, and local software development should allow the Apple ecosystem to flourish in the country. The launch of the "X" will help to boost the brand's product here as elsewhere.
Retail Stores
Despite the increasing prevalence of online retail, physical stores are key for Apple's marketing around Asia. The retail footprint in Asia is very low compared to the volume of sales. The complete Apple retail store list can be found here.
As I detailed in a previous article, 13% of the company's retail stores are in a region that produces 36% of sales.
The situation has however improved this year in China to reach the target of 50 stores in the country. Japan is Apple's best market in Asia (in terms of market share). The retail presence there has been at the forefront of the company's success. Recently it announced the next store to be in Kyoto. Elsewhere, stores have been opened for the first time this year in Taiwan's capital Taipei and in Singapore. The latter represents Apple's first store in S-E Asia. Apple is the market leader in this country of 5.6 million people so it could be said the store was overdue.
As a previous article detailed, Apple is investing in both retail and joint software and development ventures all around the Asian continent.
Effect on Stock Price
As usual, the Apple stock price ramped up before the news announcement and lost some of its gains after the event. A survey of analysts shows that the consensus calls for an average 15.7% year-on-year revenue growth. So the current stock price can be taken as having that amount of growth factored into the stock price.
Actual revenue of course varies substantially in different quarters for Apple. The chart below from Charles Schwab (subscription required) illustrates the higher sales Apple always enjoys in Q1: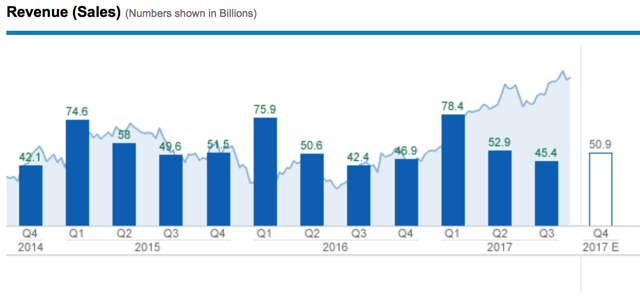 With the new products coming out, if sales volume only stayed the same, revenue growth would increase due to the higher price points. It is also uncertain on how quickly Apple can ramp up production and ship the new products. To take just one example, KGI Securities just reduced its estimates of the quantity of the "X" that could be shipped this year. This was reduced from 50 million to 40 million units. It expects supply to meet demand by the middle of next year.
One can make a comparison from the Q3 2017 Unaudited Summary Data chart earlier in this article with the Q3 2016 Unaudited Summary Data chart below: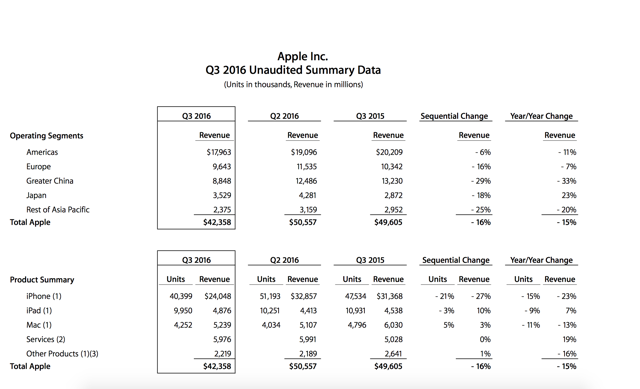 This would give quite a conservative potential as Q3 tends to be one of the lower revenue periods for the company. There is every possibility that the revenue in China will return to the 2015 level on the basis of the attraction of the new products for the Chinese consumer. That is, US$13.2 billion compared to this year's US$8 billion. This extra US$5.2 billion in what is a quiet quarter would mean China would provide an additional 13.6% in revenues, from US$45.4 billion in Q3 2017 to US$51.6 billion in Q3 2018. That is almost all the increase already factored in worldwide by analysts.
The increase should be greater in other quarters. There should also be quite substantial increases from Japan and from the Rest of Asia Pacific.
So if I am correct about the potential from China, then the revenue forecasts and thus presumably the stock price are undervalued quite considerably.
Conclusion
The new product range from Apple, especially the iPhones, look to be very favorably targeted to appeal to the brand-conscious Chinese market. In Asia, in general, Apple has huge growth opportunities because of the growing economies and large, generally young populations. As my article in May detailed, population demographic and economic growth trends are very much centered on Asia.
As a previous article detailed, Apple is investing in both retail and joint software and development ventures around the Asian continent. There is increased focus on Asia by the management. As the Asian economies expand more rapidly than those in North America and Europe, Asia's brand-conscious consumers are likely to drive up this percentage quite rapidly.
Disclosure: I am/we are long AAPL.
I wrote this article myself, and it expresses my own opinions. I am not receiving compensation for it (other than from Seeking Alpha). I have no business relationship with any company whose stock is mentioned in this article.

Source link