I came across NetEase (NASDAQ:NTES) in early 2013, when it was starting to become a major player in the Chinese mobile game industry. At first, I was a bit skeptical about their future growth and valuation. Video game companies are sometimes "one-hit wonders", and decline after their top sellers lose popularity. But NetEase is an exception. After watching it for a few months, I decided then to bite the bullet and buy the stock. And I'm glad I did.
The company has produced leading online games in China since 2001, has a diversified business model over many in-house developed and licensed titles, and currently holds over $4.6 billion in cash, which can be used for buybacks, dividends and acquisitions.
I believe that NTES is still significantly undervalued and there are several upcoming catalysts which will unlock this value. The company is a dominant player in the Chinese gaming market, with significant competitive advantages and high barriers to entry.
Basic information
Market cap: $28.6 billion P/E: 22 EV/EBITDA: 14.4
NetEase was founded by William Lei Ding in 1997 and primarily offered web search services and e-mail. Since 2001, they have focused on online entertainment, which represents 71% of their revenues today. Mr. Ding remains the CEO, and as of December 31st 2015 owned 44.3% of total ordinary shares outstanding.
The company's growth in the past decade has been remarkable. Sales have increased from $280 million to $3.5 billion today, while profits grew 550% to $1.4 billion. Profit margins have declined in recent years, as the company shifted its focus to mobile games. NetEase still has a lot of room to run thanks to a industry tailwinds, a healthy pipeline of games and exclusive licenses, but more on that later. The company has maintained a ROE of 20%+ for the past 10 years with very little debt.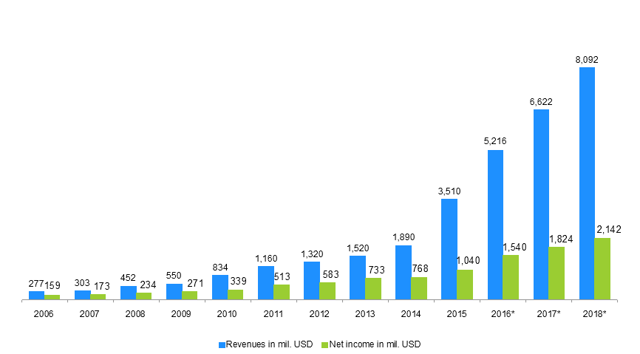 Click to enlarge
Source: Stockrow.com. *Estimates for 2016-2018 are from Thomson Reuters.
Business description
According to BrandZ, NetEase is the 40th most valuable brand in China. The company has 3 main operating segments:
This business primarily focuses on PC-client massively multi-player online role-playing games (commonly known as "PC-client MMORPGs"), as well as mobile games to the Chinese market. The company uses two revenue models for these games:
a) time-based model, in which players pay for game playing time. Based on the latest 20-F filing, the average cost per hour of play was RMB 0.6 ($0.1). A large part of NetEase's revenues come from in-house games that use the time-based model, like New Westward Journey Online II (NWJO) and Fantasy Westward Journey II. (FWJ)
NetEase has signed multiple licensing agreements with Activision Blizzard (NASDAQ:ATVI), under which it is the sole distributor of certain games in China like World of Warcraft, StarCraft II: Wings of Liberty, Diablo III, Hearthstone, Heroes of Storm and Overwatch. The original agreements were signed in 2008, and have now been extended to January 2020. As a result, NetEase stands to benefit massively from additional content and expansion packs which ATVI will release in the following years.
b) item-based model, where players pay for virtual items in the games, such as Tianxia III, New Ghost (a new version of Ghost II), Revelation, Demon Seals, Hegemon-King of Western Chu, Heroes of Tang Dynasty Zero, and an item-based version of New Westward Journey Online II.
Players can purchase time or items through physical or virtual prepaid point cards, which are available at kiosks, Internet cafes or online.
In addition to PC games, NetEase offers over 80 self-developed or licensed mobile games. Revenue comes mainly from items purchased in-game.
Licensed titles from Blizzard combined with NetEase's own games NWJO, FWJ (and their mobile version), Tianxia III, New Ghost, Revelation, Heroes of Tang Dynasty Zero and Battle to the West contributed 77.5%, 72.3% and 69.2% of total net revenues in 2013, 2014, 2015.
So the majority of NetEase's revenue comes from several key titles and the Blizzard partnership. That's the way the online game business works, quite similar to biotech industry. The company invests in the development of many games, while only a few of them eventually become popular and drive significant revenues in the future. For example, FWJ was released in 2001 and still remains a huge cash cow for NetEase.
Internet Media Business (6%)
Their main media asset is the website 163.com, which aggregates news and information on various topics. NetEase also has their own search engine called Youdao, similar to Google (NASDAQ:GOOG) (NASDAQ:GOOGL), Yahoo (NASDAQ:YHOO) or Baidu (NASDAQ:BIDU). According to data from Alexa.com, 163.com is ranked the 42nd most visited website in China, while Youdao.com ranks 71st.
E-mail, E-commerce and Others (23%)
NetEase is a provider of free and premium e-mail services, similar to Yahoo or Gmail. The company has 890 million registered user accounts, and is the second most popular e-mail provider in China. This segment also includes e-commerce platform Kaola.com which sells branded and high quality products from Japan, Australia, United States and EU.
Kaola.com operates on a similar business model like Amazon or JD.com, where there is already plenty of competition. Margins will likely be very small, and I don't see any competitive advantage for NTES in this field. NetEase is a late comer to the game and I am always skeptical when large companies diversify outside their core business activity. Kaola.com is ranked 618 in China according to Alexa, compared to 46th place for JD.com and 3rd place for Taobao.com. As such, I do not assign much value to their e-commerce business.
Market potential
The global gaming market is growing by about 6% per year, driven by the adoption of smartphones and popularity of mobile games. Growth in PC games has slowed down, and it is expected that their share will decline with rising popularity of virtual reality titles. The Chinese market is expected to hit $24.4 billion in 2016, surpassing United States ($23.5 billion) and becoming the largest gaming market in the world. This is almost entirely driven by mobile games, which grew from $1 billion in 2012 to $10 billion today. The industry is expected to grow 4-5% per year until at least 2020.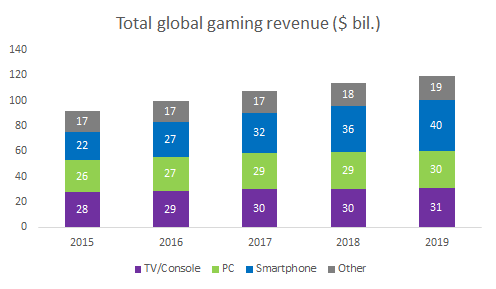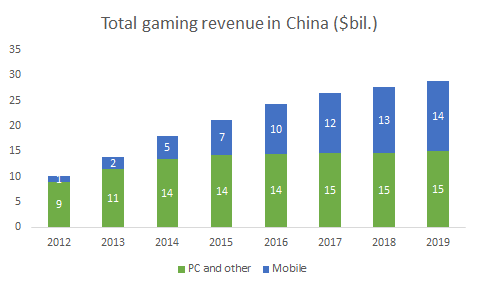 Source: Newzoo
As of August 2016, NetEase and Tencent (OTCPK:TCEHY) held 60% of the online game market in China, and 70% of the mobile game market. Revenues at some of their smaller competitors have declined this year, and many are facing bankruptcy. Both Tencent and NetEase have become dominant forces in the industry, outspending others on R&D, marketing and talent. This means, that the average life time value of a game or gamer increases, while the risk of failure decreases. Costs to acquire a player have risen, creating large barriers to entry for smaller competitors.
Foreign gaming companies can't sell their games in China without a local partner, and most chose Tencent or NetEase for this job, as their reach and brand name are unmatched in the country. This further strengthens their moat and provides them with additional sources of cash flow without the need to spend more on R&D.
It is clear that overall industry growth is slowing down, but it's very likely that both Tencent and NetEase will maintain their strong position. If we look at the list of most popular games of 2016, they are not very different from 2015 or 2014 (with the exception of Pokemon Go). All these games are older titles that have been heavily marketed by the same companies who have big budgets, which makes it increasingly difficult for smaller publishers to reach top spots.
In addition, Chinese state regulators have recently softened their stance on online game advertising, which will allow both companies to increase visibility of their brand further and acquire more players or extend life of current games. Online games are similar to movies, where popularity can produce an intangible asset, which generates additional free cash flow without the need for much capex.
Tencent has mostly relied on licensing or acquiring their games, while NetEase is well known in China for developing high quality titles in-house. According to Appannie, NetEase became the top grossing mobile game publisher in the world in November 2016 (if we count Supercell and Tencent separately).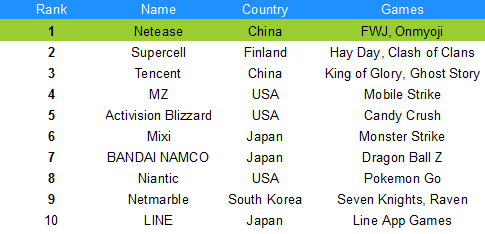 Source: Appannie.com
Valuation
NetEase is currently selling for a discount to peers based on forward P/E and EV/EBITDA. Revenues grew 40% last quarter, while analysts expect 22% EPS growth in the next 5 years. With a 2017 Forward P/E of 15, the PEG ratio is 0.7. Margins are expected to decrease, as mobile games start to represent a larger part of revenues, because they need to be distributed through 3rd party online stores like Apple's iOS store, which takes a 30% revenue cut.

Source: Company filings, Stockrow.com, Gurufocus.com, Zacks.com
I am not a big fan of complicated models and forecasts. Nobody knows, what the future will bring but we can take the assumption of 20% 5-year growth as a rough guide. A "back-of-the-envelope" calculation then reveals, that the company's DCF value is around $36-46 billion. I have assumed that the growth rate will decline to industry average (5%) after this period, and later to only 2%.

Given that their enterprise value is around $25 billion, the stock still offers at least 40-80% upside from current levels.
Catalysts
In May 2016, Microsoft (NASDAQ:MSFT) selected NetEase to be the exclusive distributor of Minecraft in China. Minecraft is the second best-selling video game of all time (behind Tetris), having sold more than 100 million copies worldwide. The game has to be adapted to Chinese audiences first, and is expected to be released there in Q1 2017.
NetEase's last hit "Onmyoji", which is currently one of the highest grossing games in China was released in September, and as a result it didn't have a full impact on the last quarter. It will be launched in other countries in the next few months (Japan in Q1 2017), and its success will be fully translated to financial results.
At the end of December, the company will host its traditional Games Award Ceremony, where the company unveils upcoming titles for the next year and future plans. In addition to current games, NetEase has a healthy pipeline in development which will be the driver of cash flow in the upcoming years.
In November, the company released a Virtual Reality (NYSE:VR) game called Twilight Pioneers on Google's Daydream device. VR is still a new trend in gaming and its impact is uncertain, but NetEase is already well positioned to benefit from it. DayDream currently works on only newer phones with specific components, but as more of them hit the market, the number of users will expand dramatically.
Investment risks
The company depends on the success of a few key titles. If their popularity declines, they might not be able to replace the cash flow quickly enough. But so far, NetEase has proven very able at developing fresh games and new content, which keeps players engaged.
A large part of revenue comes from licensing agreements with Activision Blizzard. While the current license has been extended to 2020, there are no guarantees that it will continue after that.
As a Chinese company, it is a network of holding companies with various subsidiaries and agreements between them. While this is the ordinary practice when doing business in China, the ownership structure is certainly more risky for foreign shareholders than in domestic companies.
Summary
NTES is a high quality business, with low debt ($450 million), large market share and high returns on invested capital. The company has steadily increased dividends (1.4% yield) and recently announced a $1 billion stock buyback program. I believe it has significant advantages of scale compared to smaller game publishers, and it is shielded from foreign competition thanks to Chinese laws. Revenues are still growing at a high clip, and the games in pipeline combined with licensed titles will likely bring significant cash flows in the next few years. NetEase has proven over the years that it can continually develop leading titles and compete favorably with Tencent, and that is the primary reason why it's a great buy at these prices.
Disclosure: I am/we are long NTES.
I wrote this article myself, and it expresses my own opinions. I am not receiving compensation for it (other than from Seeking Alpha). I have no business relationship with any company whose stock is mentioned in this article.
Editor's Note: This article discusses one or more securities that do not trade on a major U.S. exchange. Please be aware of the risks associated with these stocks.

Source link