In my previous article The Most Undervalued Company in Europe – Independent News and Media Plc (OTC:INNZF), I recommended INM as a strong buy under €0.12 or even €0.13. The stock traded at €0.116 on the date of publication of my previous article, being December 5th, 2016.
The 2016 financial highlights were released on March 21st, 2017 and the full 2016 annual report was published on April 27th at the close. The financial performance for 2016 was impressive, but was over-shadowed by an apparent dispute between INM and its CEO, Robert Pitt.
In this article, I will analyze the results and re-iterate my buy recommendation on INM.
2016 Financial Performance
I previously estimated the following best case/ worst case scenarios for 2016:
| | | | | |
| --- | --- | --- | --- | --- |
| FY 2016 | Revenues | EBITDA | EPS | PE (stock price of €0.115) |
| Best case | €323.2 | €38.1 | €0.027 | 4.19 |
| Worst case | €303.2 | €35.8 | €0.026 | 4.46 |
The 2016 annual report shows the following:
| | |
| --- | --- |
| FY 2016 | |
| Revenues | €323.4m |
| Operating Profit | €41.8m |
| Gross Margin | 12.4% |
| EPS | €0.029 |
| Cash Surplus | €84.8m |
The revenues were marginally higher than my best case scenario, and were achieved in the face of a continued decline in print revenues. The breakdown of INM's revenues was interesting.
Print advertising – Print advertising revenues continued their decline, showing a 9.2% drop to €63.9m.
Circulation – Circulation revenues were also down 5.2% to €95.8m. Hardly surprising.
Digital – Digital revenues continued their rise, increasing 20.4% to €15.1m. Whilst the percent increase was good, the overall contribution of digital to INM's total revenues was 4.6%. For a large media group to have only 4.6% of its revenues from digital is unacceptable, and shows a very slow pace of adaption to the current realities of the media business. In order to push digital revenues, INM has appointed a Chief Digital Officer, who joins from a large Irish gaming company.
Whilst unacceptable, there is significant room to grow INM's digital revenues to what should be a target of 40-50% of total revenues. INM has the cash to push this increase through acquisition.
Print distribution – INM's print distribution business showed an increase of 9.7% to €148.6m. INM's print distribution business, Newspread, has branched into the delivery of fresh food and other consumables, which is impressive diversification. With the growth of online sales, I expect that Newspread can continue to grow.
All told, given that they exceeded my best case scenario, I was very happy with the financial results.
Newstalk Acquisition Saga Rumbles On
At the back-end of the statement of 21 st March was the following disclosure:
The Company is complying with a requirement from the Office of the Director of Corporate Enforcement ("ODCE") to produce records in relation to the possible acquisition by the Company of Newstalk and related matters that were the subject of the Company's announcement on 28 November 2016. The Company is taking all necessary steps to meet the ODCE's request.
A requirement from the ODCE to produce books and records is a procedural matter that does not involve any conclusion that there has been a breach of law by the Company or its officers.
The Company established in December 2016, before being contacted by the ODCE, a formal independent review to examine and inquire into matters concerning the possible acquisition of Newstalk and related matters. Discussions on the possible acquisition ended at a preliminary stage and the acquisition was never considered by the Board. The confidential, independent review is being carried out on behalf of the Board by senior counsel and a senior independent governance expert who have been mandated to report to the Board.
The ODCE is Ireland's corporate compliance watchdog. Within a day or two, it emerged that the reason behind the ODCE's request for information was due to a "protected disclosure" made by INM's Chief Executive, Robert Pitt. In 2014, Ireland introduced comprehensive "whistleblower's" legislation which gives significant protection to employees who report apparent wrongdoing carried out by their employers. For the CEO of a listed company to make a protected disclosure was big news.
In my last article, I outlined that the board of INM considered acquiring a radio station, Newstalk, from Communicorp (owned by INM's largest shareholder Denis O'Brien). The board apparently split over the value, with the Chief Executive apparently winning the day and the acquisition did not proceed.
On November 29th, 2016, INM released a statement to the Irish Stock Exchange which stated that:
Discussions on the possible acquisition ended at a preliminary stage and the acquisition was never considered by the Board. The CEO raised the issue with the Company's Senior Independent Director. The Board established a sub-committee to review the issue and the sub-committee reported to the Board that no issue of concern arose for the Company.
Is this really a big issue? The acquisition of a non-core asset from the largest shareholder is certainly not something I would welcome. It does not look good, and causes a conflict of interest for a number of INM's directors. As a corporate lawyer, I am quite familiar with Irish company law. Any acquisition of Newstalk would require shareholder approval, and once approved, would not in my view constitute a breach of company law. Therefore, on the face of it, I don't really that the proposal alone constitutes wrongdoing. The issue is more so the dispute over value and the appearance that the Chairman was willing to pay a higher price to Newstalk for the asset.
Pitting the CEO against the Largest Shareholder
The protected disclosure was big news, and certainly Pitts (excuse the pun) the CEO against INM's largest shareholder who is represented by the Chairman, Leslie Buckley.
Whether related or not, another significant issue became apparent on the full 2016 report being published on April 27th. The 2016 annual report showed that the CEO received an annual salary of €404,000 and an incentive bonus of €87,000. That followed a 2015 salary of €404,000 and an incentive bonus of €218,000 in 2015. The CEO's bonus was down by €131,000 – ouch! Coming at the same time as INM's financials held up despite predictions to the contrary, that must have hurt.
An interesting aspect of the whistleblower's legislation is that any dismissal of an employee on the grounds of making a protected disclosure can lead to 5 years remuneration being awarded as compensation. That is against a maximum of 2 years remuneration under normal Irish employment law. For the CEO, if he is fired as a result of this issue, his potential compensation could be significantly higher.
Whatever happens, the writing would appear to be well and truly on the wall for the CEO. It can only be a matter of time before he departs, albeit that he has strengthened his hand considerably in any negotiations. Given the protected disclosure, I expect that the CEO's eventual departure will cost INM considerably more than would be expected.
Increasing Cash Pile
The increase in the cash pile from €62.4m at the end of June 2016 to €84.8m as at the financial year end of December 2016 is highly impressive.
INM currently has a market cap of €180.2m. The cash pile now represents a staggering 47% of the total market capitalization.
INM has appointed a Head of M&A whose job is presumably to spend this cash. Unfortunately, INM has not given much indication as to how the cash pile will be spent.
For what it was worth, I wrote to the Chairman of INM in January 2017 and requested that the board immediately pay a special/ interim dividend of €0.02 per unit of ordinary stock. At the date of my request, the special/ interim dividend I requested would have represented a yield of 16.3% and still preserved over half of the cash pile. Regrettably, although not surprisingly, the Chairman declined my request!
Future Dividend
I floated the possibility of a future dividend in my last article. 2017 has seen a number of Irish listed companies declare dividends. These were all cut during the financial crisis in 2008 to 2010, which resulted in Ireland being bailed out by the International Monetary Fund. The trend amongst the blue-chip Irish corporates has been towards dividends. INM was always a stellar dividend performer and historically paid a dividend yield of 5%.
In my request to the Chairman of INM, I also suggested that INM declare an annual dividend of €0.01 per unit of ordinary stock, which would represent an impressive yield of 7.7% as at last Friday's closing price. That dividend would cost INM an annual €13.9m, which is well within its financial capability given its yearly operating profit of over 3 times that figure. That request was also declined!
Given the trend towards the payment of dividends on the Irish stock exchange, I believe that INM will announce a dividend either in the next bi-annual financial statement (August 2017) or following the end of this financial year (March 2018). What will that be? I believe that it will be less than €0.005 per ordinary unit of stock (yield of less than 3.8%). Whilst this is far lower than INM can afford, Irish listed companies are conservative when it comes to dividend and INM will probably leave headroom for future dividend growth alongside an increasing stock price.
If my prediction comes to pass, then INM will once again become attractive to institutional investors, which fled INM on the collapse of the stock price following the financial crisis. In support of this view, UBS Investment Bank recently became the third largest shareholder in INM with a holding of 5.84%. I believe that this is in anticipation of a future dividend and the resulting stock price appreciation.
Stock Price Performance
Since my last article, the stock price has fluctuated between €0.108 and €0.132. The following chart shows the period since 2 nd December 2016: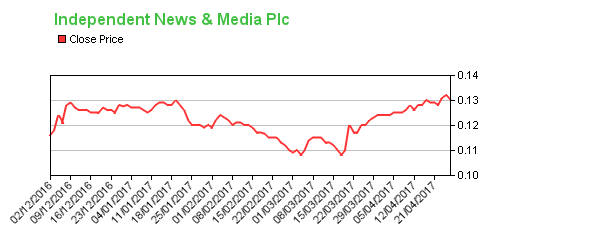 I bought at €0.114 prior to writing my last article and added further, with an average purchase price of €0.118. I'm currently sitting on a 10.2% increase as at last evening's close.
It is possible that there will be some downward fluctuation in the very near term, and opportunities may arise to buy in the region of €0.120.
I previously put forward why I believe INM is significantly undervalued, which is as a result of its extremely low PE ratio which is augmented by [i] its cash balance, [ii] absence of debt and [iii] its stable earnings. INM is a very attractive candidate for an activist investor or even a takeover, given that any purchase could be funded from its revenues and cash pile in 2 years.
Applying a fair value assessment and a PE of 9, the true value of each unit of stock is €0.271. That fair value assessment also excludes any utilization of the cash pile either in a revenue adding acquisition or a dividend.
Will INM stock price increase to its fair value? I maintain my position that the stock price will appreciate in the next 12 months, if management utilizes its cash pile and continues on its current path.
INM, and indeed Irish listed companies, operate much differently from US quoted companies. Liquidity is very low, and prices move much slower. But I believe the current trajectory of INM is towards a stock price in the €0.20s in the next 12 months.
Disclosure: I am/we are long INM.
I wrote this article myself, and it expresses my own opinions. I am not receiving compensation for it (other than from Seeking Alpha). I have no business relationship with any company whose stock is mentioned in this article.
Editor's Note: This article covers one or more stocks trading at less than $1 per share and/or with less than a $100 million market cap. Please be aware of the risks associated with these stocks.

Source link