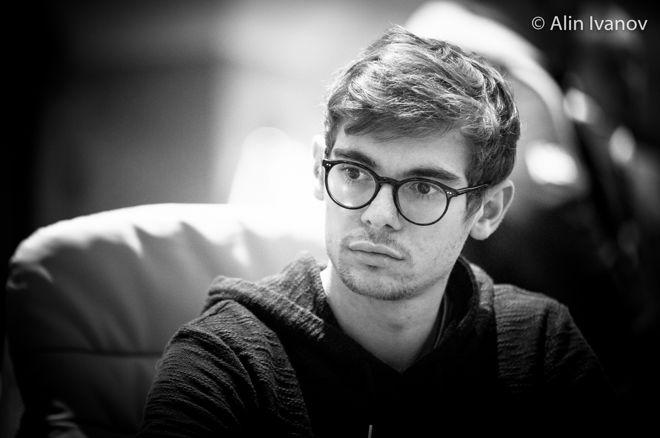 When it comes to high roller poker tournaments, there are few, if any, players more adept at them than Germany's Fedor Holz.
Holz has a seemingly unnatural ability to mix it up with the best and emerge victorious more than his fair share of the events he plays. Although Holz is better known for his live poker prowess, where he has amassed an incredible $26,548,871 in winnings, the superstar is also well versed in the online poker world and it is here where he took down yet another high roller tournament.
Holz Wins Event 1
The PokerStars High Rollers series kicked off on Nov. 26 with the first of 22 high stakes tournaments and Holz got his series off to a flying start by taking down the High Rollers 01: $2,100 NLHE, $1M Gtd. Playing under his famous "CrownUpGuy" alias, Holz bulldozed his way through a 442-strong field to get his hands on the $178,498 first-place prize, defeating Argentina's "88maca88" heads-up to secure the title.
As you would expect from such a prestigious event, the tournament attracted some of the best online poker players in the business, but only 55 of them won some of the $1 million prize pool. Team PokerStars Pro Igor "IgorKurganov" Kurganov was the only red spade to make it into the money, falling in 25th place for $8,173.
Some of the other notable names to cash included Roman "RomeOpro" Romanovsky (22nd for $8,173), Jordan "JWPRODIGY" Westmoreland (11th for $13,869), Patrick "pad1161" Leonard (sixth for $42,651), Grayson "gray31" Ramage (fourth for $75,615) and Dinesh "NastyMinder" Alt (third for $100,682).
Other Event Highlights
Two more of the High Rollers have crowned their champion. "BlackFortuna" defeated "Venividi1993" heads up in the High Rollers 02: $2,100 5-Card PLO [6-Max], $200K Gtd and got his hands on a bankroll-boosting $54,404 while Sweden's Simon "C. Darwin2" Matsson, another player not averse to playing for huge stakes, outlasted a field of 510 in the High Rollers 03: $1,050 NLHE [8-Max, Turbo PKO], $250K Gtd and won $88,219, which included almost $43,000 in bounty payments.
On Nov. 28, two more events will crown their champions as both tournaments are down to the final six players. "GoNuTs009" leads the final six players in the High Rollers 04: $2,100 NLHE [8-Max, PKO], $400K Gtd and "23noraB" leads the final six of the High Rollers 05: $1,050 NLHE [6-Max Shootout], $200K Gtd.
By the end of the High Rollers series, 22 events will have played out and more than $11 million in prizes awarded, including a cool $2 million in the $2,100 buy-in Main Event. The remaining schedule follows.
| Date | Time (GMT) | Tournament | Buy-in |
| --- | --- | --- | --- |
| Nov. 28 | 7 p.m. | High Rollers 06: $10,400 NLHE, $1M Gtd | $10,300 |
|   | 8:30 p.m. | High Roller 07: $2,100 NLHE Turbo Progressive KO, $400K Gtd | $2,100 |
| Nov. 29 | 7 p.m. | High Roller 08: $2,100 NLHE 8-Max, $500K Gtd | $2,100 |
|   | 8:30 p.m. | $5,200 PLO 6-Max, $500K Gtd | $5,200 |
|   | 10 p.m. | High Rollers 10: $2,100 NLHE 6-Max Turbo, $250K Gtd | $2,100 |
| Nov. 30 | 7 p.m. | High Rollers 11: $10,300 NLHE Progressive KO, $1M Gtd | $10,300 |
|   | 8:30 p.m. | High Rollers 12: $2,100 NLHE Turbo, $400K Gtd | $2,100 |
| Dec. 1 | 7 p.m. | High Rollers 13: $2,100 NLHE 6-Max, $400K Gtd | $2,100 |
|   | 8:30 p.m. | High Rollers 14: $1,050+R NLHE, $250K Gtd | $1,050 |
| Dec. 2 | 7 p.m. | High Rollers 15: $5,200 NLHE 8-Max, $500K Gtd | $5,200 |
|   | 8:30 p.m. | High Rollers 16: $2,100 NLO8 6-Max, $200K Gtd | $2,100 |
|   | 10 p.m. | High Rollers 17: $1,050 NLHE 3-Max Zoom, PKO, $400K Gtd | $1,050 |
| Dec. 3 | 5:30 p.m. | High Rollers 18: $5,200 NLHE Progressive KO, $500K Gtd | $5,200 |
|   | 7 p.m. | High Rollers 19: $2,100 NLHE Main Event, $2M Gtd | $2,100 |
|   | 8:30 p.m. | High Rollers 20: $2,100 PLO 6-Max, $300K Gtd | $2,100 |
|   | 10 p.m. | High Rollers 21: $1,050 NLHE 8-Max Turbo, $500K Gtd | $1,050 |
| Dec. 4 | 7 p.m. | High Rollers 22: $1,050 NLHE Wrap Up, $250K Gtd | $1,050 |
The Stars Group owns a majority shareholding in iBus Media

Source link