Admittedly, I've been wrong before in calling Churchill Downs (CHDN) overvalued. I thought CHDN was simply too expensive near $150 last year; it looked like it was on its way to $200 this year before a recent pullback along with the rest of the market: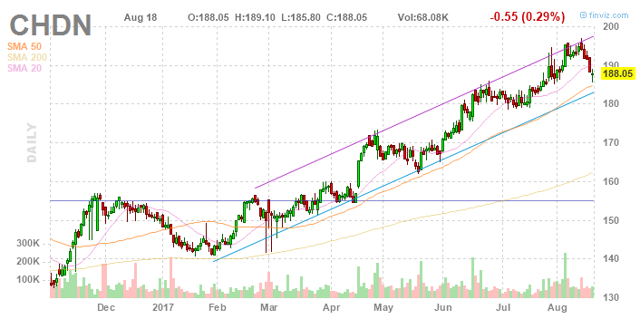 Source: finviz.com
To be sure, Churchill Downs has done a nice job. Every year, Kentucky Derby revenues and profits grow, and every year the experience gets better – and more expensive. Online racing provider TwinSpires continues to grow nicely. I'm not a huge fan of the casino portfolio, particularly the operations in Mississippi and Louisiana. But CHDN has made some interesting JV acquisitions in New York State and Maryland and done a nice job managing its Oxford Casino in Maine.
I hated the acquisition of social gaming developer Big Fish Games, and that business is starting to show some cracks. But its profit growth has been strong enough to support a valuation at least close to what CHDN paid, and recent transactions in the industry suggest Churchill Downs could make a decent profit were it to decide to sell. And, I do think I underestimated management, which continues to drive shareholder value, and has some room in terms of its leverage ratio to ramp up M&A or continue a reasonably aggressive buyback strategy.
This looks like a good business, and there are some possible sources of value beyond the P&L. But even accounting for that, the current price and the 30%+ gains just since February look like a bit much. To me, CHDN still looks like a stock whose valuation should be much closer to $150 than to $190.
Reverse-Engineering $200+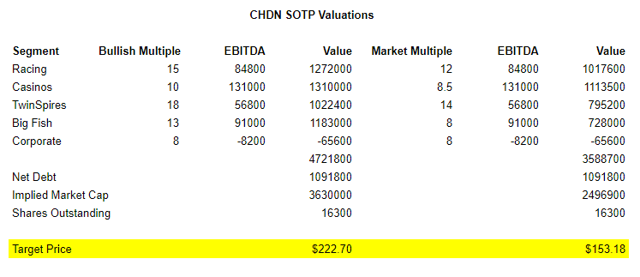 Source: author; EBITDA is trailing twelve-month Adjusted EBITDA figures as calculated by Churchill Downs
To be clear, the bullish multiples on the left are very bullish, at least in my opinion. And on a segment-by-segment basis, I certainly believe the 'correct' multiples are much closer to the group on the right – which suggest roughly 20% downside from current levels.
Racing
It's tough to drive a peer valuation for the Racing business, which basically is the Kentucky Derby Week. The entire segment, which includes tracks in Louisiana, Florida, and Illinois, plus the non-Derby operations at Churchill Downs' namesake track, is unprofitable on an EBITDA basis outside of Q2.
EBITDA growth has been solid, as continuing improvements to Derby Week have created new sources of higher-priced ticket sales. Such is the impact of premium packages – sold on a contracted, multi-year basis – that on the Q2 call CEO Bill Carstanjen shrugged off the impact of terrible weather for the week, telling an analyst that the impact "largely [was] going to be for the general admission patron…I wouldn't say it was real big from an economic perspective".
That business continues to grow, with EBITDA rising 11% last year and 6% in the first half. New "Starting Gate Suites" to open next year probably will add a few points of growth on their own. The television contract with NBC runs through 2025, most likely with annual escalator clauses (as is the case with most such deals) and ratings continue to be strong – somewhat surprisingly, despite the overall lower interest in horse racing nationally.
Churchill Downs management has argued over and over again that the Derby is immune to the general trends facing its sport. And each year they seem to be proven correct. I do think there are some concerns around the margins: there's only so much premium seating that can be added, and there's likely a step down in the next TV deal. The rest of the business is declining, and in the case of both Fair Grounds in New Orleans and Calder in South Florida, CHDN can't stop the money-losing operations without jeopardizing more profitable casino/slot operations. (More on the Arlington property later.)
But those are modest concerns indeed. The Derby is a franchise where a $1 billion-plus valuation seems reasonable, even for a one-week effort. At the same time, CHDN's consolidated valuation seems highly likely to support that billion-dollar figure – at least.
Casinos
The Casinos segment actually is CHDN's largest by profit, accounting for 37% of trailing twelve-month segment-level Adjusted EBITDA. And it's somewhat of a mixed bag.
In Maine, the largest casino by revenue, CHDN's Oxford casino continues to outshine Hollywood Casino, owned by the larger and more experienced Penn National Gaming (PENN). Oxford's revenue rose 5.2% in 2016 and another 7%+ in the first half; per Maine state figures, Hollywood's gaming revenue declined in 2016, and Oxford outperformed its sole in-state rival in the first half of this year as well.
Oxford is adding a $25 million hotel, which could help those numbers. But it also has a competitive threat coming in Wynn Resorts' (WYNN) new casino in Everett, Massachusetts. That property now is scheduled to open in June 2019 – and it could take gamblers from New Hampshire and even the northern suburbs of Boston (who might prefer a leisurely drive north to a difficult one to Providence, RI or Connecticut).
The Calder casino in South Florida continues to grow in a tough market, one dominated by the properties of the Seminole tribe. The two Mississippi casinos both saw revenue decline in 2016, with Riverwalk (in Vicksburg) continuing to stumble in the first half and Harlow's (in Greenville, near the Arkansas border) rebounding. Fair Grounds slots revenue has declined as well, which the 10-K attributed to market share gains by Mississippi Gulf Coast casinos (driven at least in part by a smoking ban instituted in 2015).
Churchill does have equity ownerships in Ohio (50% of Miami Valley Gaming), New York and Colorado (25% of Saratoga), and Maryland (62.5% in Ocean Downs, including 12.5% coming from the Saratoga stake). Ocean Downs is adding table games and new slots, and its coastal location should protect it from the major properties in the state (such as the National Harbor, owned by MGM Resorts International (MGM)).
But overall, I still see Churchill Downs' portfolio as somewhat substandard. Its EBITDA margins admittedly are top-tier relative to peers (and they do include some corporate expense, so that's not just a matter of comparability). But the only real growth property probably is Ocean Downs. The Southern properties are likely facing stagnant revenue at best over the long term. Competitive pressure is coming for Oxford, and Calder is a small fish in a big pond. Relative to regional Eldorado Resorts (ERI) or increasingly Vegas-focused Boyd Gaming (BYD), Churchill's offering simply should be less desirable.
Those companies both are getting EV/EBITDA multiples over 10x (which, I'd note, is a result of continuing expansion over the last two years to post-crisis highs). I'm skeptical that CHDN's portfolio deserves a multiple close to that (though I will admit that recent performance has been better). And that's not just a thought exercise: a one-turn change in the segment EBITDA multiple on an SOTP basis changes CHDN's valuation by $8, or 4%+. From here, 7.5-8.5x makes far more sense from a peer and industry standpoint.
TwinSpires
TwinSpires might be where CHDN bulls would most disagree with my estimates. This is a business growing revenue in the low double-digits, and EBITDA in the high double digits. It's far and away the leader in its space. There's certainly an argument that a 'bullish' valuation of ~$1 billion is too low given that its growth runway should be pretty long.
I do wonder whether the recent growth can persist much longer, however. TwinSpires' gains are coming basically from taking market share: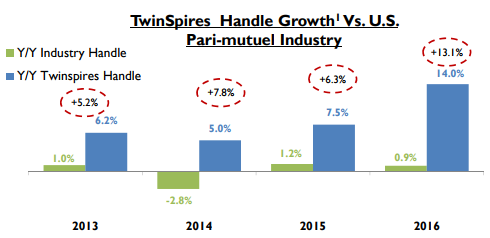 Source: CHDN March presentation at JP Morgan conference
Horse racing still seems likely to decline over time (the past two years have been reasonably strong). Commission rates have come down the past two years. New user growth is strongly outpacing revenue growth, because as COO Bill Mudd explained on the Q1 conference call, more recent cohorts are coming from customers less familiar with horse racing. Those customers are smaller bettors than past customers TwinSpires managed to take from live racing and off-track betting facilities.
Admittedly, there's two ways to look at that fact. I'd argue that the shift into newer, smaller customers suggests that TwinSpires largely has reached its most profitable potential targets. But if those new customers can be turned into steady patrons, perhaps TwinSpires has another leg up. To be sure, 2016 performance was exceedingly impressive, with handle growth accelerating as seen above. But I worry about whether that's sustainable, and whether there's much room left for margin expansion (EBITDA margins compressed in 1H, even backing out a one-time tax refund in 2016). A mid-teens multiple, in line with that given to European iGaming providers (there really aren't any US comparables) seems to incorporate a lot of that growth, and some of that risk. But I can see why more bullish investors might see that as conservative.
Big Fish
I've long thought that social casino gaming was a bubble waiting to burst. I've been wrong so far. Caesars Entertainment (CZR) sold Playtika for 16x EBITDA. International Game Technology (IGT) was able to get 10.5x EBITDA for its Double Down Interactive division.
From recent conference calls, it sure seems like some investors and analysts are hoping Churchill takes a similar path. It's worth remembering that part of Churchill's strategy over the past few years was to position itself for the so-called convergence in gambling, in which US iGaming legalization post-Wire Act would lead to multi-channel offerings (live, online, mobile, etc.) to US gamblers. Obviously, that hasn't played out. But the idea here was to put together horse racing, casinos, and social casino, while TwinSpires developed a platform that could be tweaked to offer real-money casino-based games – and developed a ready-made user base to whom to market those games.
And Big Fish's social casino business still is holding up. Bookings rose 2.3% in the first half despite intense competition. That's a decent rebound after a 5.6% decline a year ago.
The problem is that what the company calls "casual and mid-core free-to-play" games are declining sharply. Carstanjen has admitted that CHDN overspent on user acquisition to drive bookings a year ago. With that UA spend pulled back, bookings have tumbled, falling 24% in the first half and 27% in the second quarter. In addition, the company's 'premium' games – many of which are still PC-based, and provide hugely high-margin revenue given the lack of development and user acquisition cost – are declining as well.
Big Fish has renegotiated developer deals in premium to protect margins, but UA spend alone and double-digit annual declines still imply a reasonable profit headwind for the sector. A new game called Cooking Craze appears to be an early hit, with daily bookings levels cited on the Q2 call suggesting a $50 million annual run-rate – over 10% of the 2016 total.
But this still looks like a business that stays flat at best, and may not be that far from outright tumbling, particularly if the social casino business weakens. And that's not an insignificant problem. Big Fish drives 25% of profit at the segment level. Given deal multiples and the recent gains at Zynga (ZNGA), its profits likely are helping to support the near-12x consolidated EV/EBITDA multiple.
If the business stays down in the second half – and the company is guiding for further weakness, albeit with sequential improvement – it alone can impact valuation here. A couple turns' worth of multiple compression and a decline in profit (Q2 did see a big increase, but that appears more due to revenue recognition than business strength) can knock 10%+ off CHDN's valuation alone. From a sentiment standpoint, too, another step down from Big Fish puts a roadblock in front of the bull case here, and detracts from the strength at TwinSpires and in the Derby.
On the other hand, it does seem at least from conference calls like the market would react well to Churchill Downs divesting Big Fish at a reasonable-enough valuation. But the struggles in the business and the near-11x multiple paid for Double Down still imply a single-digit EBITDA multiple for the business. Here, too, others may be more optimistic – and if one of those 'others' is a buyer, that's likely good news for Churchill Downs.
Other Drivers And Valuation
There are some factors here beyond the existing business. The Arlington racetrack has the possibility of getting slots at some point, an opportunity Churchill Downs long (and I mean long) has sought. A bill passed in the Illinois Senate would grant Arlington the right to add slot machines. But it would also add casinos in Lake County (to the north) and in and south of Chicago. VLT (video lottery terminals) already have penetrated most of the northern part of the state.
That bill, unsurprisingly, has stalled – though it does appear the state is getting closer to gambling expansion. One state representative has added an amendment allowing Arlington and the state's other two tracks to get table games as well, reportedly after lobbying from Arlington Park.
At this point, however, I'm not sure the opportunity is all that lucrative. The state's biggest casino, Rivers Casinos in Des Plaines (near O'Hare Airport), generates about $400 million in gaming win, per Illinois state figures. There's no way Arlington gets close to that number, given existing and new competition coming online. Maybe $150-$200 million at 20% EBITDA margins adds $30-$40 million in EBITDA – and $300-400 million in equity value. That's not a small sum (10%+), but discounted for time and risk it's not exactly a pillar of a bull case here.
In Kentucky, Churchill Downs is opening a $60 million "historical racing" facility in Louisville. But that facility itself is an admission that Churchill's long efforts to legalize gambling in the state are at an end. Historical racing itself remains under challenge in the state, and while it's had success at smaller tracks, it remains to be seen whether that's a major profit driver for CHDN going forward. It's another smart move, but I'm doubtful it changes the bull case, either.
Fundamentally, CHDN just looks a bit too pricey. Trailing free cash flow excluding project spend is a bit under $200 million, suggesting a 15x+ multiple. That might sound cheap – but most operators in the space trade in the high-single digits on that basis. There's maybe an argument that capex returns from the Churchill Downs suites, Ocean Downs, movement in Kentucky and Illinois, and decent organic improvements get EBITDA over $400 million. In that case, an 11x+ (above-peer) multiple gets the stock over $200, and close to the bull case above.
That's not an easy path, however. The path gets clearer (and cleaner) with a Big Fish sale, and TwinSpires and the Derby probably are enough for another year of mid-single-digit EBITDA growth next year at least. But there's macro risk here – this is a hugely cyclical space – and Big Fish needs to have a better second half. Those risks simply don't look priced in.
Admittedly, I said the same thing about a year ago, and CHDN has continued to rise. Then, I thought an "everything goes right" scenario led the stock to about $187. Not quite everything has gone right – and CHDN has hit that level regardless. That may continue, but I'm not betting on it.
This article is part of Seeking Alpha PRO. PRO members receive exclusive access to Seeking Alpha's best ideas and professional tools to fully leverage the platform.
Disclosure: I/we have no positions in any stocks mentioned, and no plans to initiate any positions within the next 72 hours.
I wrote this article myself, and it expresses my own opinions. I am not receiving compensation for it (other than from Seeking Alpha). I have no business relationship with any company whose stock is mentioned in this article.

Source link